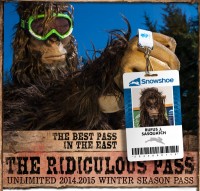 In what some had worried might have been a one-time deal, Snowshoe has announced that on February 18 it will again sell the "Ridiculous Pass," a full season pass of skiing and snowboarding for $199 with no restrictions. The pass became a runaway hit last year for offering snowy entertainment throughout the following snowsports season, plus a portion of the so-called "spring" ski season.
"$200 for the rest of this season and all of next season can't be beat!" exclaimed Facebook user Kevin Knight on a March 12 resort FB thread announcing the deal. (Previous pass-holders got word of the deal two days earlier.)
The only difference between this year's and last year's Ridiculous Pass is that this one rises in price by $5 per day for nine days before it leaps to $299. Even at that level, the Ridiculous pricing is far below Snowshoe's $449 regular season pass rate – and far below many competing resorts.
The next cheapest West Virginia resort is Canaan Valley, which charges $500 for its standard pass. Winterplace is $599, and Timberline charges $635 as the regular rate. In Virginia, Wintergreen Resort offers a $359 pass, but that Nelson County resort renders season passes invalid most holidays, Saturdays, and Sunday mornings.
By contrast, Snowshoe's Ridiculous Pass has no blackout dates, and it starts unlocking the resort's 60 named runs on the first day of March. Ridulous Pass buyers also get a ten percent discount at resort restaurants plus ten percent off all non-holiday lodging rates.
Snowshoe calls this "the best pass in the East," and Virginia Beach resident Kevin Terrell sums it up in a Facebook comment.
"Stoked!" says Terrell.
Comments
comments