March 2009
You are browsing the archive for March 2009.
The death of Tony Award-winning actress Natasha Richardson has sparked interesting articles by ABC News, by Fox News, and by the New York Times.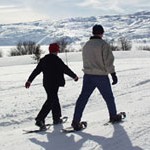 The East appears to be having a good season while the West is not, according to Marketwatch, which pins the blame for rough times in the Rockies on the sour economy. Snowshoe's current marketing efforts attest, "Your trunk is free," took a bold swipe at the airlines – the gateway for the big Western resorts – who are charging [...]

Even though her tumble resulted in no major visible injury, and even though it occurred on a bunny slope under the gaze of an instructor, the death today of Tony Award-winning actress Natasha Richardson will surely revive the debate over helmet use, which exploded a decade ago after a pair of on-slope celebrity deaths. The push [...]

Snowshoe's big summer ad campaign has won a boatload of money as part of West Virginia's ongoing plan to match private marketing spending with state money. The latest cash salvo pairs about $163K in state cash with $163K in Snowshoe's own ad dollars to spread the word about the fun of a "mountain summer." Also [...]

Snowshoe's beleaguered parent company, the publicly held Fortress Investment Group, announced another rough quarter to Wall Street today, announcing a $258 million loss, as the company continues to feel the effects of the credit crunch and redemptions from its once-storied hedge funds. Hey, Snowshoe and its season of 190″ of snowfall did their part to prop [...]

Some condo owners received word today that Sunday, March 22 will be the last day for skiing and snowboarding at Snowshoe. If so, that moves the date up a week from the original planned closing date of March 29 and suggests a wet end to a snowy season that began with three feet of snow [...]
This past weekend at Snowshoe may have seemed a little wet and warm, but 16 years ago skiers were treated to a whopping 44 inches of powder, according to one source. This was the so-calles "superstorm" that smothered the eastern United States with heavy snowfall, high winds, and blizzard conditions. It was also, a bit [...]

Lovely pictures in Country Living magazine point to lovely living on Cheat Mountain, and now the #1 shelter mag's "House of the Year" can be yours for $1.575 million, according to the listing for 19 Meadows Drive at Intrawest's Playground Real Estate. Like all 110 houses slated for development in the 22-acre Sawmill Village, this [...]

Two out of three recent snowsports enthusiasts who died in tree collisions at snow resorts in Ontario, Canada — at least those mentioned by CTV Toronto — were wearing helmets.

A Virginia Beach girl on a spring break trip with her parents and three brothers lost her life March 5 in Charlottesville at the University of Virginia medical center after a ski accident at Snowshoe. According to media reports, the victim was Laila Serpe, a seventh-grader at Cape Henry Collegiate School. "She skied right off [...]