February 2009
You are browsing the archive for February 2009.

A Roanoke television meteorologist explains how Snowshoe has been robbing Virginia of snowfall all season. In the report, Snowshoe's communications manager, Laura Parquette, appears on camera to say that this has been the biggest October-to-January snowfall in 13 years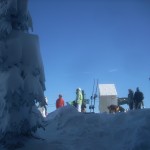 It's been a snowy year at Snowshoe. According to the official site, there have been 183 inches so far. That's more than the annual average, and there's still a month of winter left. All 60 trails are open, and the average base is 56 inches. This is all pretty amazing, especially when one stops to consider [...]

A teenage girl snowboarding at California's Dodge Ridge Ski Resort likely suffocated after falling into a tree well, according to a report in the San Jose Mercury News.

Thomas A. "Doc" Brigham, the man who started Snowshoe Mountain Resort, is fondly remembered by friends and associates in High Country Press, a northwest North Carolina newspaper. Now commemorated at Snowshoe by the naming of the main transportation center, on the edge of the Village, Brigham, who died November 25 in Birmingham, literally put Snowshoe on [...]

Former Snowshoe condo seller Scott Small portrays Harry Horner, the lead in The Country Wife, a Restoration period comedy penned in 1675 and performed in Ellicott City, Maryland.

Snowshoe is doomed by climate change, according to the enviro director of Aspen Skiing Company, Auden Schendler. His blunt prediction: "Snowshoe — gone," came in the March 2008 edition of Ski Area Management magazine. There, he also predicted that Stowe would get "more rain than snow," that Park City will be in "worse shape" than Aspen due [...]

 I'm still not exactly clear how snowboarders are dealing with the fact that Taos Ski Valley, one of my favorite places and one that only opened its slopes to boarding in March 2008, are dealing with the long runouts that conclude pretty much all runs at the New Mexico resort.

For some folks, Tuesday, January 20 was drive-home day after the three-day, Martin Luther King Day weekend. But for the lucky few who didn't need to hit the road that day, it was a time to take a break from skiing and boarding and watch history being made. For the folks gathered in the Foxfire [...]

Should the on-slope photographer working for Vail one January day have really been fired for shooting this photo of a bizarre chairlift incident? What happened was that the seat was left in the upright position, and the snowboarder, a a dad riding with his child in Vail's Blue Sky Basin, slipped through the — err — crack. Could this have happened [...]
I have been enjoying Snowshoe since the late 1970s when it had a round restaurant and no village. There's just no other place with such excellent skiing and such chilly weather this side of Vermont. In 1995, something exciting happened. A big resort company called Intrawest bought Snowshoe and began redeveloping Snowshoe. Chief among its innovations [...]